Realtor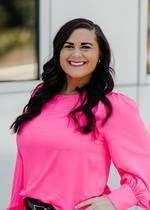 Contact Information
Office Phone:
515-232-6175
Email:
mmaahsrealty@gmail.com
About Me
Professional Accomplishments
I am an Iowa native with a Bachelor's degree from Iowa State. I come from years of mortgage lending experience and am excited to continue educating home buyers and sellers on all of their financial options. Helping both new and experienced home owners find their dream spaces is a passion that drives me to excel professionally.
Areas of Service
Des Moines and surrounding areas, First Time Homebuyers, Experienced buyers.
Fun Facts
In my free time, you can find me with my husband, son, golden retriever, and a giant orange tabby cat, watching Netflix or going on a walk.
Education
Iowa State University '12 Bachelors